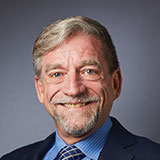 Robert Kerns, PhD

Professor of Psychiatry, Neurology, and Psychology, Yale University; Co-director of the Yale-based NIH-DoD-VA Pain Management Collaboratory Coordinating Center
Dr. Robert Kerns is professor of psychiatry, neurology and psychology at Yale University. He is is a clinical psychologist with an extensive background as a clinician, educator, scientist, administrator, advocate and policy maker in pain management. Dr. Kerns was recently appointed by the U.S. Secretary of Health and Human Services to serve as a member of the Interagency Pain Research Coordinating Committee that advises the Secretary and provides leadership in the field. His scholarly and scientific contributions focus on comprehensive pain assessment; development and evaluation of innovative, integrated models of pain care; pain self-management; psychological approaches for the chronic pain management; pain and comorbidities; disparities in pain care; safe and effective opioid therapy; and promotion of organizational improvements in pain care.
Presentation: Models in Integrated Pain Care
This presentation will begin with acknowledgement of two interrelated public health concerns, namely the high prevalence and sub-optimal management of pain and the opioid epidemic and risk of harms related to opioid therapy for chronic pain management. The National Pain Strategy findings and recommendations related to service delivery and payment will frame a consideration of emerging models of integrated pain care and the evidence supporting them. Integration of evidence-based nonpharmacological approaches, particularly complementary and integrative health approaches will be highlighted. The presentation will highlight challenges related to implementation of these models and approaches, drawing attention to disparities in accessing and utilization of these approaches. The presentation will conclude with a call to action at the individual and public policy level.
Outline:
Pain and opioid harms as overlapping public health concerns
The complexities of chronic pain and its management
Barriers to accessing quality pain care
Foundations of integrated, patient-centered, evidence-based, multimodal and interdisciplinary pain care
Emerging models of pain care
Overview of the NIH-DoD-VA Pain Management Collaboratory