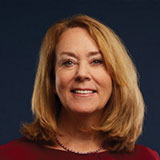 Peggy Compton, RN, PhD, FAAN

Associate Professor, van Ameringen Endowed Chair, Department of Family and Community Health, University of Pennsylvania School of Nursing
Dr. Compton is the van Ameringin Endowed Chair at the University of Pennsylvania School of Nursing, and a Fellow of the American Academy of Nursing. Her area of expertise is in the interplay among opioids, addiction and pain. She has published extensively on addiction in chronic pain patients on opioid therapy, and the pain responses of opioid addicts with and without chronic pain. She has served on FDA, SAMHSA and NIH expert panels on prescription opioid abuse, and contributed to position statements from the American Pain Society and College on Problems of Drug Dependence on pain management for patients with addictive disease. She currently serves as principal investigator on a NIDA grant exploring hyperalgesic responses in individuals undergoing opioid taper.
Presentation: Opioid Abuse and Misuse in Patients with Chronic Pain
Disentangling the role opioids prescribed for chronic pain have contributed to the current opioid crisis, this presentation will focus on the risk factors for and identification of opioid abuse and misuse in patients with chronic pain. Opioid misuse and abuse will be conceptually distinguished from opioid use disorder, and approaches to managing each in the patient with chronic pain will be reviewed. In addition, the benefits and risks associated with implementing the 2016 CDC Guideline for Prescribing Opioids for Chronic Pain in this patient population will be considered. Acknowledging that similar interventions can be effective for each, the presentation will close with recommendations for specialty addiction treatment designed for those individuals with both opioid use disorder and ongoing nonmalignant pain.